Pinterest is the new star in social media. Having grown at a rate faster than Facebook could ever have dreamed of (it was the fastest site to date to break the 10 million unique visitor mark) Pinterest's growth only slowed in March of this year – yet the pinboard-style social network shows no sign of disappearing just yet.
However, despite its adoption by a number of big brands such as Etsy and HGTV, Pinterest has not necessarily been embraced by all and is clearly still trying to find its positioning in the social media universe.
In this post, we'll take a look at those early adopters of Pinterest marketing and find out what it is they've done right. Also, we'll show you tips to avoid the potential for things to go very, very wrong.
Pinterest Marketing Done Right
Whole Foods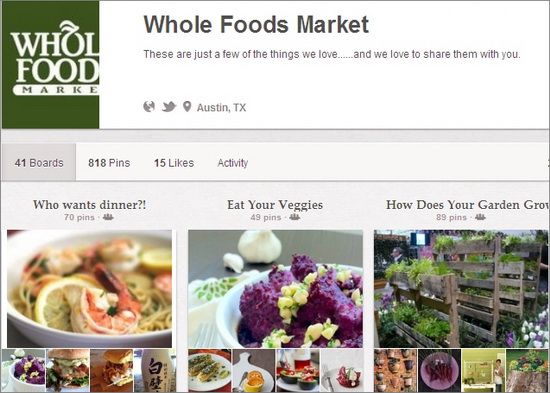 Whole Foods Market, the supermarket chain specializing in organic and natural foods, was one of the first big brands to realize the potential Pinterest had when it came to marketing.
So why has it done so well?
Whole Foods has utilized Pinterest as a way of reaffirming its brand ethos and interacting with its customers in an entirely new manner.
Whole Foods created a number of different pinboards to reflect the varied interests and beliefs of the company. As well as pinboards for food, recycling and green living, it created boards for less obvious (though no doubt relevant) topics including holidays, "cool" kitchens and food art.
However, Whole Foods has not just demonstrated an interest in its own brand and pinboards; it's incredibly active in the Pinterest community, following others and repinning things of interest. In your own pinterest marketing, remember to not focus only on your own content, but to also actively participate in the community. 
Scholastic
As the world's largest publisher of children's books and an embracer of all things cool and colorful, it's no wonder that Scholastic would come to see the potential the Pinterest community could hold.
Why has it done so well?
Scholastic followed a similar premise to Whole Foods by fully embracing the whole ethos of how social media should be used for marketing.
Instead of sticking with the easiest option of creating pinboards relating purely to the publications and financial interests of the company, Scholastic decided to create a number of pinboards that, while related to the company and its products, should draw in a more diverse crowd than only those who have a vested interest in the company's products themselves.
Some of its pinboards include:
Libraries We Love
Beautiful Bookshops
Wise Words
Vintage Scholastic
Michaels
Michaels is a chain of stores specializing in crafts and arts supplies – the perfect candidate for a Pinterest marketing campaign if ever there was one.
What's so good about it?
Michaels created a wide range of pinboards designed to gather the interests of a diverse array of Pinterest users, including boards for knitting, baking and making crafts from recycled materials.
However, Michaels hasn't forgotten that if you want to be really successful in social media, you need to demonstrate a genuine interest in the words and actions of your following. With this in mind, Michaels created a pinboard purely for the purpose of sharing its followers' projects. This kind of interaction is exactly what companies should be doing if they really want to excel at social media and ensure their actions online transcend to increased profits offline.
The Dark Side to Pinning
As Pinterest is still a relative baby in the social media world, it's inevitable that it would still have a few holes to work out.
The primary concern with Pinterest relates to the security of the site and the ease at which it could be abused by less honorable characters. Earlier this year Shadab Siddiqui uncovered a number of vulnerabilities in the site that could allow company accounts to be hacked – the consequences of which remain to be seen.
Copyright Infringement
Another issue which has led to a backlash against Pinterest is copyright infreingement. Although the site does have rules in place regarding the use of copyrighted material, the whole ethos of Pinterest contradicts these rules, and it's a wonder how successful the site would be if people were only to use images to which they had explicit permission to use.
The fact is that there is still an incredible amount of gray space surrounding Pinterest and just whom the responsibility lies with should something prohibited get pinned.
With this in mind, any company wishing to use Pinterest for marketing should play it safe and ensure it's only sharing or repinning images to which it has the rights to do so.
Pinterest Marketing Conclusion
Does your company actively use Pinterest to market your product or services, why or why not? Leave your questions and thoughts about Pinterest marketing in the comment section.